What effect did Covid-19 have on the event industry and what is the future of corporate events? We asked Emmelie Nietsche – event manager at WIN.
WIN is a global innovation-business matchmaking company based in Lund, Sweden. Emmelie is a trained event manager with extensive experience from both live and digital event making. In her work she manages 20-25 corporate events per year. Her insights on the matter are valuable for anyone in the event industry This is her take on the future of events, post Corona.
Digital events and virtual meetings are booming due to Covid-19, how does this affect the event business?
     – There is both time and money to be saved with digital meetings and because of this pandemic and its regulations in how we meet, we are now more used to the setup of meeting friends, family and colleagues online. I must say the companies supplying us with platforms for digital meetings and events have made fantastic progress in a relatively short time, giving us the ability to meet people in a satisfying way even if the distance between us is a bit longer.
Many of us have attended digital meetings or events this past year and with growing experience, the demands get higher. I am confident that with the progress that has been made in holding meetings digitally during the last year, it will be a standard method to employ even when the world eventually starts getting back to some kind of normality – simply because the benefits of being able to meet online are so many.
At the same time, after more than a year of keeping distance to each other we can all agree that live meetings have another value, a value that not even the best virtual events can replace. Because of that, I believe hybrid events as the next big thing to come.
What is hybrid events?
     – Hybrid events are meetings or events where participants are attending both remotely and on sight. The setup is a great way to meet both demands but it comes with a new set of challenges for us as hosts because we have to make sure that both digital and on sight attendants are satisfied.
So, how do you keep hybrid meeting attendants happy?
     – Accessibility is key and you will have to find apps and platforms that connect both types of attendants to you and to each other. Choosing a platform for your hybrid meeting or event has to be done with this in mind. It will no longer be enough to just have an open Zoom/Teams meeting or a live stream on Facebook. A hybrid event has to be an experience for the live attendant as well as the virtual one. All guests have to be able to interact, network and attend sessions.
This changes the demands not only on us as event hosts, but on the speakers and moderators as well. Their job has to be done in a way that entertains both a live audience and a digital one at the same time. We are super proud of our moderators here at WIN, we have received so many positive comments both on their professionalism and charisma.
Do you think people will feel safe enough to attend live events again?
     – Safety and health is definitely another aspect to take into consideration when hosting events post Covid. It is possible that the demand for safety will change the setup for events long term. Things we might see more of ahead include health checks in entrance, more outdoor activities, portion sized meals instead of buffets and more health related activities during events. But yes, I think people crave meeting in person, we just have to make sure we provide safe events for everyone.
What about safety in the digital world? How concerned should we be about our integrity online during digital meetings?
     – When we socialize and network digitally, it is much easier for companies to track the participants and their behavior. It is also fairly common for the host to record digital meetings and events. Awareness about this is important and as a host it is important to be completely transparent about this and about what data is being collected.
How do you predict the future of digital meetings and virtual events?
     – In many ways, this pandemic has taught us the importance of sustainability. We have been shown how fragile we are and how much we are willing to change if we have to. Companies have made big changes in how and when we travel and corporate policies regarding conferences and meetings will probably change permanently. Events that have the option of digital attendance will probably be recommended in the corporate world. We have our own studio up and running with our in-house events and with the possibility to book us, both for digital and hybrid events. The demand for this type of studios and technical knowledge is higher than ever. Our strategy is to be personal, easy and adaptive. But however you choose to do it, I would definitely say that digital meetings, in one way or another, are here to stay!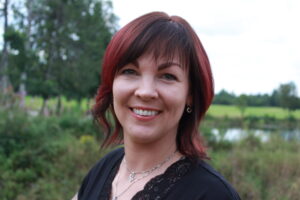 Emmelie Nietsche, event manager at WIN